A More Excellent Way
Is your marriage relationship all that you want it to be?
Is it all that God wants it to be?
Just because we are Christians doesn't mean that we have God's Love flowing from our lives.
Why? What is missing?
This is the remarkable story of the turnaround of Chuck and Nancy Missler's 20 year Christian marriage. It reveals the dynamic secret which releases the power of God's love that is already resident in every believer. The discovery has healed relationships all over the world.
This set includes one hour of Chuck sharing and one hour of Nancy sharing their testimony.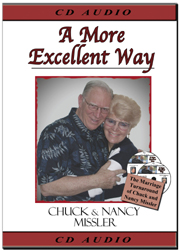 This set has 2 CDs
This is the MP3 on Disk
Also Available as an MP3 Download!