Never Give Up! The Fruit of Longsuffering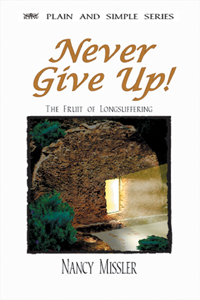 What do you do when your dreams, your plans and your hopes blow up in your face? Who do you blame when everything in the Bible gave you hope but, then, all was destroyed? How do you refrain from being angry, bitter and blaming God in situations like this? If we are honest with ourselves all of us at one time or another, have felt like 'giving up.' Paul expresses it perfectly in 2 Corinthians 1:8 when he says that he "despaired of life itself."
Have you ever felt like this? Have you ever wondered if somehow you missed God?
Never Give Up addresses these questions and gives us the answers plus the practical application to rectifying the situation.
Most of us talk very openly about the need to "be like Christ" and to have His characteristics of Love, joy, peace, but what about thefruit of longsuffering—the determination never to give up? God promises us that He will strengthen us; help us and uphold us, even through the difficult times.
(Isaiah 41:10) "Do not be afraid, for I am with you. Do not be dismayed, for I am your God. I will strengthen you. I will help you. I will uphold you with my victorious right hand."
The question is: How do we do our part? How do we, like Paul, patiently endure our trials by never giving up? That's what this book is all about.
Chapters in Never Give Up!
God's Cycle of Trust
Experiencing God's Love
In Obedience, Learning to Love God
In Obedience, Learning to Renew Your Mind
In Obedience, Learning to Have Unshakeable Faith
Seeing Him Who Is Invisible
Patiently Enduring All Things
Blessings from Never Giving Up!
We just want you to know how much your book Never Give Up has blessed and instructed us in the principles of victorious Christian living. We have a group of women who are reading and discussing the book. We seldom get more than 2 pages a meeting done. It is just a great object for discussion. We have also taken it to a home Bible study: it has been wonderful. Thank you for your sensitive Plain and Simple Series.
DD & BS – USA email
Additional Resources
Learn more about "Never Give Up" with these supporting materials.
Never Give Up: Study Questions