Let me ask you a question.
Do you have firsthand "experiential knowledge" that God loves us, or more specifically, that God loves you?  I don't mean "intellectual knowledge" or "head knowledge."  I mean the moment by moment intimacy that only a loving Father and child can have.  As Christians, no matter what our circumstances, we all need to live in the security of God's Love.  If we have His Love, then we can do anything, but without His Love, we are nothing.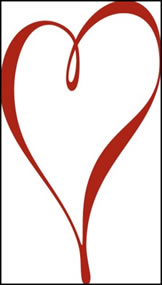 We need to know without a doubt that we are loved by the Father; that He has laid down His Life expressly to give us His Love through Jesus Christ; and that He has called us to be His vessels of Love.  If we have a living experience of these things, then we will have the confidence to lay our wills and our lives down to Him and love Him in return.
If we really knew how much God loves us, there would never be any reason for us to fear what He might allow into our lives.  We would know that He would take care of us no matter what.  Isaiah 43:2-4 states, "When you pass through the waters (trouble), I will be with you; And through the rivers, they shall not overflow you.  When you walk through the fire, you shall not be burned, nor shall the flame scorch you.  …For I am the LORD your God… you were precious in My sight…and I have loved you."
It doesn't matter how long you have been a Christian, how many people you have led to the Lord, how many Scriptures you have memorized, or how many Bible studies you have taught.  If you don't know God loves you personally, you're not going to be able to grow.
What Is God's Love?
What is God's Love? The Bible tells us that God's Love is a Person.     1 John 4:7-8 notes, "Beloved, let us love one another, for love is of God; and everyone who loves is born of God and knows God.  He who does not love does not know God, for God is love."
God's Love is a supernatural Love poured into our hearts the moment we invite Him in to take control of our lives.  It's God Himself who comes into our hearts at that moment, and He is that Love!  This personal Love is what makes Christianity so totally different from all the other religions in the world. Christianity is the only religion where God Himself (who is Love) comes to dwell within each one of us.
To define God's Love, let's read how God Himself describes His Love in 1 Corinthians 13:4-8:  "Love suffers long and is kind; love does not envy; love does not parade itself, is not puffed up; does not behave rudely, does not seek its own, is not provoked, thinks no evil; does not rejoice in iniquity, but rejoices in the truth; bears all things, believes all things, hopes all things, endures all things.  Love never fails."
Agape and Chesed Love
In the Greek language, God's Love is called Agape.  Agape was coined exclusively for its specific use in the New Testament. Every time it's used in Scripture it means, without exception, God's Love, pure and divine. Besides the Bible, there is no other usage of the word Agape in literature. (There is one exception—a counterfeit.)
In the Old Testament God's Love was called chesed. Chesed Love has two distinct sides to it: One side is a longsuffering and merciful Love; the other side is a strict, firm, and disciplinary Love.
Therefore, God's Love can manifest itself either mercifully in our lives when appropriate, or it can manifest itself in strictness and firmness as the occasion demands. Both ways are facets of God's Love. As we seek God's Wisdom and His discernment (i.e., the Mind of Christ) for each occasion, God will let us know which type of Love to use for our own particular situation.
Prove It!
I would like to focus on how we can know that God loves us personally:
1) One of the major reasons we can know God loves us individually and personally is because He says so in His Word. Listen:
• Jeremiah 31:3: " The LORD has appeared of old to me, saying 'Yes, I have loved you with an everlasting love; Therefore with lovingkindness I have drawn you.'"
• Isaiah 43:4-5: "Since you were precious in My sight, you have been honored, And I have loved you;  …Fear not, for I am with you."
• John 15:9b: "As the Father loved Me, I also have loved you."
• And 1 John 3:1: "Behold what manner of love the Father has bestowed on us, that we should be called children of God! "
These are just a few Scriptures; there are many more that declare how much God loves us personally. Since God's Word is truth, we need to trust and believe what He promises.
2) He also has proven His Love for us by sending His Son to die in our place.  If we choose to believe and accept Jesus' pardon, then we'll also receive His Spirit into our hearts.
3) God loves us so much that He has not only told us so in His Word, sent His Son to die for us, and given us His Spirit to confirm His Love, but He also loves us so much that He has given us His abundant Life here and now. Abundant life is simply experiencing His Life through us.
How Does God Communicate His Love?
Okay, you might say, so God loves us. "How does He communicate that Love to us? How can we begin to experience His Love?"
1) God cannot be boxed in; He will manifest Himself to each of us in many different ways. But one of the sure ways He communicates His Love to us is in our daily reading of His Word.  This is how God talks to us, and this is how we hear His Voice.  We must choose—by faith, not feelings—to believe what God's Word says about His Love, and then we must step out in faith, knowing that in God's timing He will align our feelings to match what we have chosen. It all begins, however, with constantly reading and believing God's Word.
2) God also communicates His Love to us through our Christian brothers and sisters. We are extensions of God's Love to each other—we are His arms and His legs. This is what He is asking each of us, moment by moment, "Are you willing to allow Him to love others through you?"
It's so very important that when someone asks us to pray for them that we not only remember to pray for them, but also be willing to do anything else that God lays upon our hearts: either call them, write them, visit them, take them a gift or even make a personal sacrifice for them. Each time we let God use us in some personal way, it's a touch from Him saying to that other person, "I love you."
3) Another way God communicates His Love to us is through situations and circumstances.  There's nothing quite so comforting as knowing that God's hand has personally orchestrated our circumstances.  It's a constant reminder that He does, indeed, love us.
Do You "Know" God?
I believe most Christians don't really know God. They know about Him and they know Scriptures, but they're not intimately acquainted with His character and His daily "loving" touch upon their lives.
God's Love helps us endure, persevere, and hang on through the trials and the pain and suffering. Hope in God's Love is what will give us the faith to look beyond the near term, beyond the current situation, beyond the horrendous problems, and look to Christ for our final victory. If we know without a doubt  that we  are loved by the Father,  then there is always hope for the future!
from "The Way of Agape" by Nancy Missler
©2010 The King's High Way Ministries, all rights reserved
www.KingsHighWay.org
Everyone is permitted to copy and distribute verbatim copies of this document, provided they do not change it AND all copies include the following: by Nancy Missler, ©The King's High Way Ministries, www.KingsHighWay.org, Used by Permission
---
You Might Also Like: