Private Worship: The Key to Joy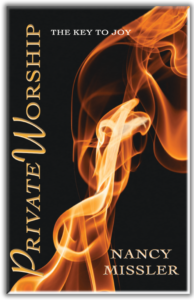 ---
DOWNLOAD:
Private Worship
Many Christians haven't any idea what real "worship" is! And, yet, Scripture teaches us that it is the most important thing that we can learn to do.
The Bible tells us that worship is important because it is the key to experiencing God's presence. If this is true, then is worshiping Him only on Sundays enough? What about the rest of the week? This guide book gives us an outline of how the Bible teaches us to worship the Lord in the privacy of our homes every day of the week. It shows us how worshiping the Lord—being in His presence—is the "key" to our joy. Psalm 16:11 tells us, "[only] in His presence is fullness of joy."
With questions at the end of each chapter, Private Worship: The Key to Joy makes a great Group Bible Study!
Chapters in Private Worship:
What is Worship – Why is it so Important?
Pathway to Worship – Offering Ourselves
Preparation for Worship – Personal Surrender
Personal Worship – Entering His Presence
Incense and Intimacy – Hearing His Voice
Spiritual Warfare – Vital for Worship
Worship – Key to Joy and the Glory of God
Additional Resources
Learn more about "The Key" with these supporting materials.
Private Worship Intro and Chapter 1
Private Worship Answers to Questions in the Book